About us

We are Benny and Judith.
We've met each other at the dog-training group.

It was and still is our passion to train German Shepherds. We both dreamed of working professionally with dogs. Luckily, we can say that our dream came true.

Now and then we took care of dogs of friends and family. When this started bursting at the seams, we decided to start a dog hotel.

After a long and difficult search for the appropriate location, we ended up in Budingen. We bought an old but well-maintained farmhouse with a rear meadow, situated in Roelstraat not far from the Roelbeek in the middle of an agricultural area. It was crystal clear that we would name our business "The Roelhoeve".

After obtaining the correct legal licenses, Judith started with 6 kennels.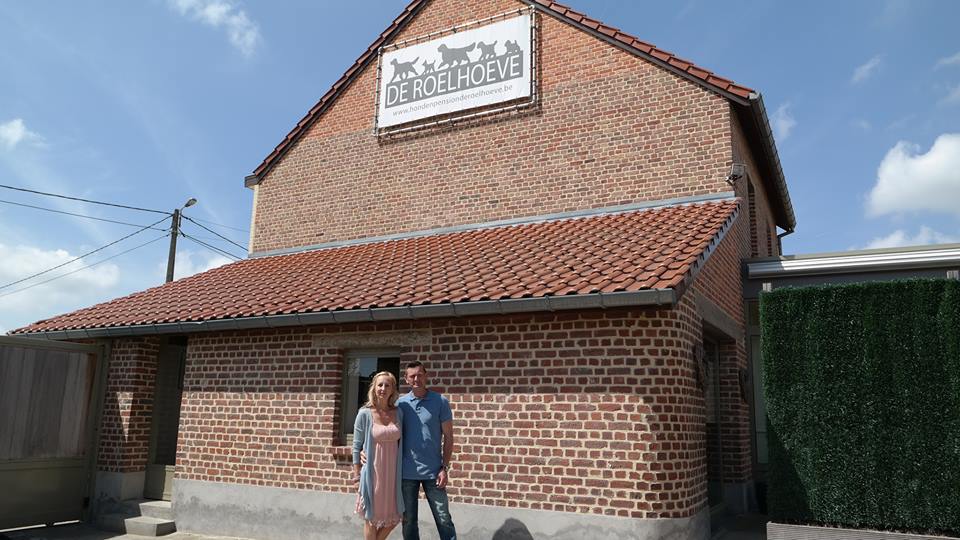 In the meantime, she also followed a course "Dog and Cat decree" with the necessary internships. During the calm periods, we decided to teach animal behaviour therapy. In no time, we've grown out to a dog shelter with the current 30 kennels and both of us were working fulltime to take care of our guests.

Due to the fact that we have guests the entire year-round, it wasn't feasible to also teach animal behaviour therapy classes. With regret we had to renounce giving these classes.

Meanwhile our little girl Jessie was born, she literally grew up between the dogs. She's now a vigorous teenager who loves to help out her mum and dad.

Personally, we are the proud owners of a cat, a chihuahua and two Icelandic horses.

We cannot imagine not being surrounded by animals.
Dogshelter "The Roelhoeve" isn't just our job, it's our greatest passion!
About the Roelhoeve
The Roelhoeve is a spacious location. Every single dog that visit us gets his own in sleeping area, adapted to his / her height. The inner kennels are divided between different buildings. In one building there are never more than 8 kennels. This makes the atmosphere more peacefull.

Multiple dogs from the same family are allowed together in one kennel.




De Roelhoeve consists of 30 kennels. All dogs are allowed to walk on the playgrounds daily. We have 12 playing fields, one of which is large and 3 of which are partially covered. Depending on your personal preference, your dog will be placed together with other dogs or on its own on the playground. We opt for the dogs to play together as much as possible.

How many times the dogs go out on the playground depends on the weather, the age and the needs of the dog. Every dog is different and should therefore be approached differently.


All dogs bring their own food as well as their own bed.

If your dog has to take medication then you must clearly indicate and bring it yourself.

It's obligatory that dogs are vaccinated against dog disease, canine parvovirus and kennel cough.


The vaccinations had to take place at least 2 weeks before staying with us and they must be vaccinated annually.
Would you like to have a look at our backyard and receive some more information?
Feel free to contact us and make an appointment.
Dropping off and picking up the dogs (after reservation) is possible between these hours:
Monday – Friday : 09h00 – 10h30
18h00 – 20h00

Saturday, Sunday and holidays: 09h00 – 10h30
Reservation
The first reservation takes places in our shelter. Here, we'll draw up a pension agreement besides you can take a look at our working method and the place where your dog will reside.

Please take your pet passport with you in order that we can write down all the necessary information. This way we can also ensure that the vaccinations are in order. We ask for a payment in advance for reservations during summer season and other holidays periods.
(Fortis Budingen Account.nr. 001-4624143-35 dog's name and period of stay).

Reservation is final after full deposit of the advance.

A brief explanation as regards to the payment in advance.

If you make a reservation during school holidays, you always pay an advance. Your reservation is final after full deposit of the advance payment.

In case of cancellation it is not possible to recover the advance except in case of decease of the owner (or family members) or the dog.

This is specified in the terms and conditions signed by the client during the first reservation.

Please keep this in mind when you make the reservation.

All dogs must be vaccinated against
Dog disease




Hepatitis




Leptospirosis




Parvovirus




Kennel cough

Anti-flea treatment
The vaccinations had to take place at least 2 weeks before staying with us and they must be vaccinated annually.
What to bring along:
Pet passport: we'll preserve this for the duration of stay




Dog's own food if desired




O

wn cushion, blanket or basket (if necessary, a back-up)



Drinking and feeding bowls are available in the kennels, baskets can be booked together with your reservation